Hawking Says 'Don't Bank on the Bomb' and Cambridge Votes to Divest $ 1Billion From Nuclear Weapons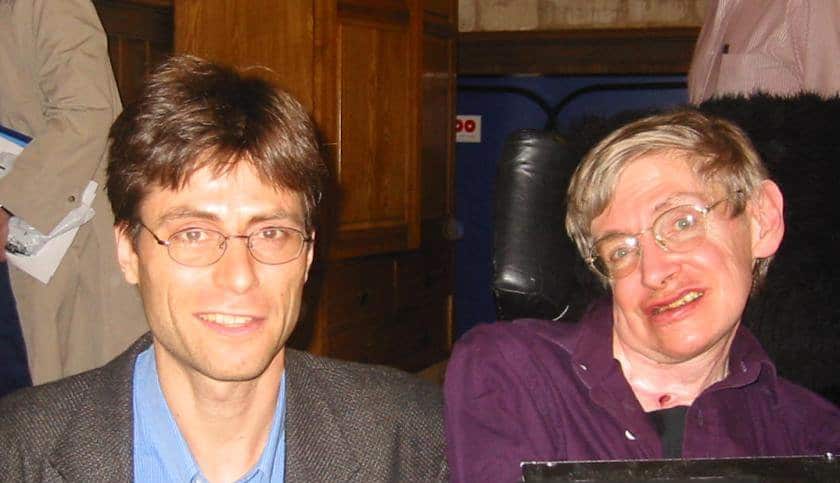 1,000 nuclear weapons are plenty enough to deter any nation from nuking the US, but we're hoarding over 7,000, and a long string of near-misses have highlighted the continuing risk of an accidental nuclear war which could trigger a nuclear winter, potentially killing most people on Earth. Yet rather than trimming our excess nukes, we're planning to spend $4 million per hour for the next 30 years making them more lethal.
Although I'm used to politicians wasting my tax dollars, I was shocked to realize that I was voluntarily using my money for this nuclear boondoggle by investing in the very companies that are lobbying for and building new nukes: some of the money in my bank account gets loaned to them and my S&P500 mutual fund invests in them. "If you want to slow the nuclear arms race, then put your money where your mouth is and don't bank on the bomb!", my physics colleague Stephen Hawking told me. To make it easier for others to follow his sage advice, I made an app for that together with my friends at the Future of Life Institute, and launched this "Brief History of Nukes" that's 3.14 long in honor of Hawking's fascination with pi.
Our campaign got off to an amazing start this weekend at an MIT conferencewhere our Mayor Denise Simmons announced that the Cambridge City Council has unanimously decided to divest their billion dollar city pension fund from nuclear weapons production. "Not in our name!", she said, and drew a standing ovation. "It's my hope that this will inspire other municipalities, companies and individuals to look at their investments and make similar moves".
"In Europe, over 50 large institutions have already limited their nuclear weapon investments, but this is our first big success in America", said Susi Snyder, who leads the global nuclear divestment campaign dontbankonthebomb.com. Boston College philosophy major Lucas Perry, who led the effort to persuade Cambridge to divest, hoped that this online analysis tool will create a domino effect: "I want to empower other students opposing the nuclear arms race to persuade their own towns and universities to follow suit."
Many financial institutions now offer mutual funds that cater to the growing interest in socially responsible investing, including Ariel, Calvert, Domini, Neuberger, Parnassuss, Pax World and TIAA-CREF. "We appreciate and share Cambridge's desire to exclude nuclear weapons production from its pension fund. Pension funds are meant to serve the long-term needs of retirees, a service that nuclear weapons do not offer", said Julie Fox Gorte, Senior Vice President for Sustainable Investing at Pax World.
"Divestment is a powerful way to stigmatize the nuclear arms race through grassroots campaigning, without having to wait for politicians who aren't listening", said conference co-organizer Cole Harrison, Executive Director of Massachusetts Peace Action, the nation's largest grassroots peace organization. "If you're against spending more money making us less safe, then make sure it's not your money."
You'll find our divestment app here. If you'd like to persuade your own municipality to follow Cambridge's lead, using their policy order as a model, here it is:
WHEREAS: Nations across the globe still maintain over 15,000 nuclear weapons, some of which are hundreds of times more powerful than those that obliterated Hiroshima and Nagasaki, and detonation of even a small fraction of these weapons could create a decade-long nuclear winter that could destroy most of the Earth's population; and
WHEREAS: The United States has plans to invest roughly one trillion dollars over the coming decades to upgrade its nuclear arsenal, which many experts believe actually increases the risk of nuclear proliferation, nuclear terrorism, and accidental nuclear war; and
WHEREAS: In a period where federal funds are desperately needed in communities like Cambridge in order to build affordable housing, improve public transit, and develop sustainable energy sources, our tax dollars are being diverted to and wasted on nuclear weapons upgrades that would make us less safe; and
WHEREAS: Investing in companies producing nuclear weapons implicitly supports this misdirection of our tax dollars; and
WHEREAS: Socially responsible mutual funds and other investment vehicles are available that accurately match the current asset mix of the City of Cambridge Retirement Fund while excluding nuclear weapons producers; and
WHEREAS: The City of Cambridge is already on record in supporting the abolition of nuclear weapons, opposing the development of new nuclear weapons, and calling on President Obama to lead the nuclear disarmament effort; now therefore be it
ORDERED: That the City Council go on record opposing investing funds from the Cambridge Retirement System in any entities that are involved in or support the production or upgrading of nuclear weapons systems; and be it further
ORDERED: That the City Manager be and hereby is requested to work with the Cambridge Peace Commissioner and other appropriate City staff to organize an informational forum on possibilities for Cambridge individuals and institutions to divest their pension funds from investments in nuclear weapons contractors; and be it further
ORDERED: That the City Manager be and hereby is requested to work with the Board of the Cambridge Retirement System and other appropriate City staff to ensure divestment from all companies involved in production of nuclear weapons systems, and in entities investing in such companies, and the City Manager is requested to report back to the City Council about the implementation of said divestment in a timely manner.
Our content
Related posts
If you enjoyed this, you also might like: