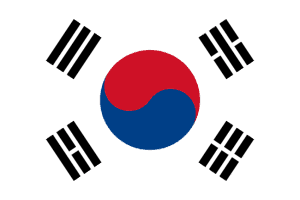 The following description of AI policy in South Korea provides a snapshot summary of some previous and ongoing initiatives throughout the country. It is regularly updated as feasible, but it is not intended to be comprehensive. 
As of February 2020, there is also extensive information, data, and graphics about AI policy in South Korea available at the OECD AI Policy Observatory.
The Korean Ministry of Science, ICT and Future Planning (MSIP) defined an Artificial Intelligence Information Industry Development Strategy in 2016. The 70-page report is titled, "Mid-to Long-term Master Plan in Preparation for the Intelligent Information Society: Managing the Fourth Industrial Revolution." The report considers the role of AI alongside other converging technologies such as the Internet of Things, cloud computing, big data analysis, and mobile technologies. The report discusses a range of implications of AI related to the workforce and economy as well as lifestyles and living environments. It outlines core factors of success including growing the economy, providing opportunity to all, and improving everyone's safety and happiness. It also lays out a "National Vision" which is "Realizing a Human-Centered Intelligent Information Society."
The strategy defined in the report highlights the following topics:
Foster an intelligent information society on the basis of public-private partnership, with businesses and citizens playing leading roles and the government and research community providing support.
Devise and implement a balanced policy regime that encompasses technologies, industries, and society and shapes the development of a more humane society.
Provide strategic support for the prompt securement of the rights and access to Intelligent IT and other related resources to ensure and foster industrial competitiveness in advance.
Reform policies and expand the social security net on the basis of social consensuses.
This strategy leads to the definition of specific policy aims and tasks related to technological development, the promotion of industry, and proactive steps to reform education and welfare policies. Legal and ethical frameworks are also mentioned, for example enacting framework legislation, establishing a charter of ethics for AI, having a public-private partnership council tasked with monitoring, researching, and preventing technological trends and risks that may perpetuate the negative impacts of new technologies, and providing education for the underprivileged with the goal of minimizing the information gap.
https://futureoflife.org/wp-content/uploads/2015/10/FLI_logo-1.png
0
0
Ariel Conn
https://futureoflife.org/wp-content/uploads/2015/10/FLI_logo-1.png
Ariel Conn
2018-07-12 16:12:11
2021-12-15 05:29:18
AI Policy – South Korea