FLI September, 2018 Newsletter
Listen: Podcast with Will MacAskill
with Paul Scharre and Mike Horowitz
AI Safety Research Highlights
What We've Been Up to This Month
Max Tegmark, Lucas Perry, and Ariel Conn all helped present the Future of Life Award to Stanislav Petrov's children.
Max Tegmark spent much of the past month giving various talks about AI safety in South Korea, Japan & China.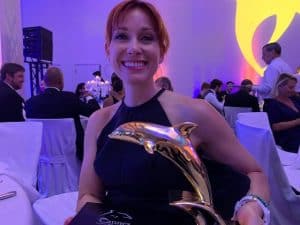 Ariel Conn attended the Cannes Corporate Media and TV Awards where Slaughterbots was awarded the Gold prize (see picture). She also participated in a panel discussion about AI, jobs, and ethics for an event in Denver hosted by the Littler Law Firm.