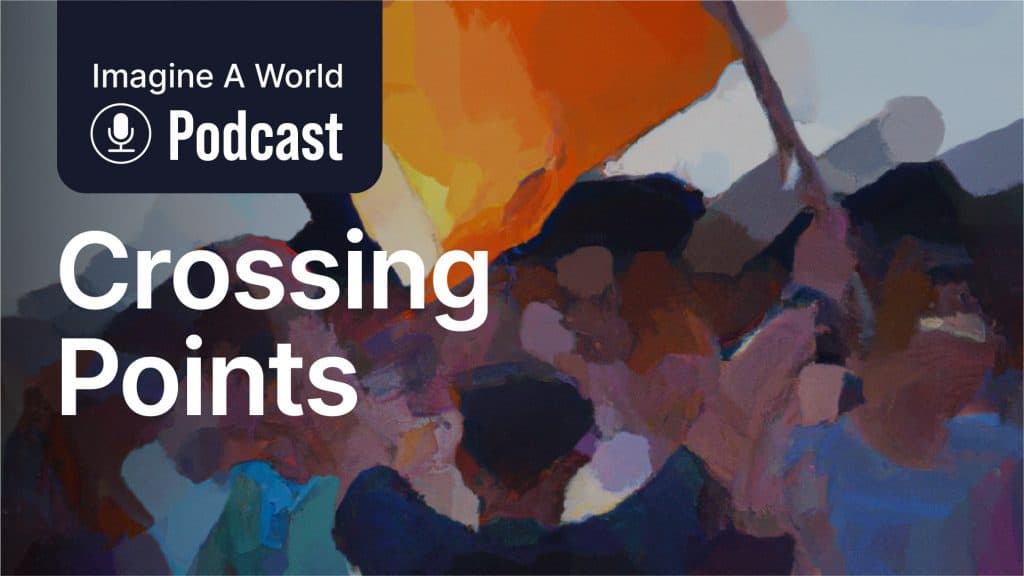 Shownotes
How does who is involved in the design of AI affect the possibilities for our future? Why isn't the design of AI inclusive already? Can technology solve all our problems? Can human nature change? Do we want either of these things to happen?
Imagine a World is a podcast exploring a range of plausible and positive futures with advanced AI, produced by the Future of Life Institute. We interview the creators of 8 diverse and thought provoking imagined futures that we received as part of the worldbuilding contest FLI ran last year.
In this second episode of Imagine A World we explore the fictional worldbuild titled 'Crossing Points', a second place entry in FLI's worldbuilding contest.
Joining Guillaume Riesen on the Imagine a World podcast this time are two members of the Crossing Points team, Elaine Czech and Vanessa Hampshire, both academics at the University of Bristol. Elaine has a background in art and design, and is studying the accessibility of technologies for the elderly. Vanessa is studying responsible AI practices of technologists, using methods like storytelling to promote diverse voices in AI research. Their teammates in the contest were Tashi Namgyal, a University of Bristol PhD studying the controllability of deep generative models, Dr. Susan Lechelt, who researches the applications and implications of emerging technologies at the University of Edinburgh, and Nicole Oxton, a British civil servant.
There's an emphasis on the unanticipated impacts of new technologies on those who weren't considered during their development. From urban families in Indonesia to anti-technology extremists in America, we're shown that there's something to learn from every human story. This world emphasizes the importance of broadening our lens and empowering marginalized voices in order to build a future that would be bright for more than just a privileged few.
The world of Crossing Points looks pretty different from our own, with advanced AIs debating philosophy on TV and hybrid 3D printed meats and grocery stores. But the people in this world are still basically the same. Our hopes and dreams haven't fundamentally changed, and neither have our blindspots and shortcomings. Crossing Points embraces humanity in all its diversity and looks for the solutions that human nature presents alongside the problems. It shows that there's something to learn from everyone's experience and that even the most radical attitudes can offer insights that help to build a better world.
Please note: This episode explores the ideas created as part of FLI's worldbuilding contest, and our hope is that this series sparks discussion about the kinds of futures we want. The ideas present in these imagined worlds and in our podcast are not to be taken as FLI endorsed positions.
Explore this worldbuild: https://worldbuild.ai/crossing-points
The podcast is produced by the Future of Life Institute (FLI), a non-profit dedicated to guiding transformative technologies for humanity's benefit and reducing existential risks. To achieve this we engage in policy advocacy, grantmaking and educational outreach across three major areas: artificial intelligence, nuclear weapons, and biotechnology. If you are a storyteller, FLI can support you with scientific insights and help you understand the incredible narrative potential of these world-changing technologies. If you would like to learn more, or are interested in collaborating with the teams featured in our episodes, please email worldbuild@futureoflife.org.
You can find more about our work at www.futureoflife.org, or subscribe to our newsletter to get updates on all our projects.
Works referenced in this episode:
https://en.wikipedia.org/wiki/The_Legend_of_Zelda
https://en.wikipedia.org/wiki/Ainu_people
https://www.goodreads.com/book/show/34846958-radicals
Podcast
Related episodes
If you enjoyed this episode, you might also like:
All episodes