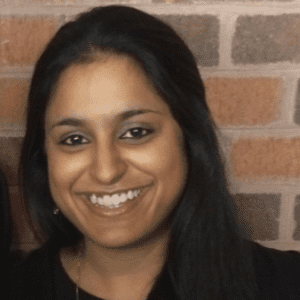 Shuchi Talati
Position
Geoengineering Research, Governance and Public Engagement Fellow
Organisation
Union of Concerned Scientists
Biography
Field: Geoengineering governance, climate policy
Position & Organization: Geoengineering Research, Governance and Public Engagement Fellow, Union of Concerned Scientists
How did you get started in this field? While I was in college as an environmental engineering major, I decided to do an internship on Capitol Hill. I became aware of the immense impact of policy in addressing climate change. I decided to pursue an interdisciplinary path and learned more about geoengineering as a potential part of a climate risk management strategy. It presents deep governance challenges and ethical issues that are fascinating as an engineer and policy practitioner to wrestle with.
What do you like about your work? I enjoy working on an issue that presents such a diverse set of scientific, ethical, and governance questions. Society will need to make decisions on climate change and how to address geoengineering, and I'm lucky to be able to contribute to that important conversation.
What do you not like about your work? As a somewhat nascent field that can get sensationalized, it can sometimes be challenging to have publicly engaged and informed conversations in the solar geoengineering space. I hope that as more people become educated on and aware of geoengineering, we can have larger and more inclusive discussions about the future of these approaches.
Do you have any advice for women who want to enter this field? Our perspectives are underrepresented. Reach out to women that you admire, build relationships, and don't be afraid to voice your opinions.
What makes you hopeful for the future? Domestic and international dedication to addressing climate change is continuously growing. Though we are far from where we need to be, I remain optimistic that we're on a promising path.
Read more
Our content
Content from this author