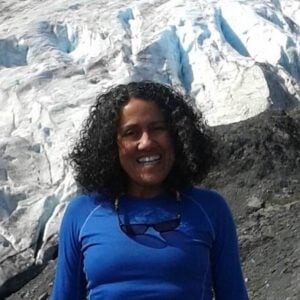 Astrid Caldas
Organisation
Union of Concerned Scientists
Biography
Field: Climate Science
Position & Organization: Senior Climate Scientist, Union of Concerned Scientists
How did you get started in this field? I was a field ecologist working with butterflies, and my field experiments got derailed by climate change some 3 years in a row. I decided I wanted to learn more about it, and here I am — left academia 10 years ago to raise awareness of climate change, and never looked back!
What do you like about your work? I love going places, bringing the importance and presence of science in our everyday lives — and our future — to a variety of audiences, from schools and universities to policymakers and everything in between. I love talking to people, hearing their stories, and hopefully helping them address their concerns.
What do you not like about your work? I like everything about my work itself. But I don't particularly care for the fact that some people out there find it more important to point fingers than to act. We are seeing serious problems — let's fix them, and not wait until they get worse. These people just get in the way of my work!
Do you have any advice for women who want to enter this field? Learn as much as you can not only from academic institutions or NGOs, but from people on the frontlines and those who are being the most impacted by climate change. Attend events, visit places if you can, to see first hand how people are dealing with the issues, and find out how you can help them become more resilient. Sometimes it is as simple as showing them a website they didn't know about, or telling them about grants and other resources to protect their homes from floods.
What makes you hopeful for the future? People who care, who do things and act. People who fight for their rights to a better, healthy, safe environment. The youth climate movement. They are the future!
Read more
Our content
Content from this author