Support the Future of Life Institute
Interested in helping mitigate existential risk?
The continued existence of life on Earth is a goal we can all get behind, but there are real threats that put our future at risk. The Future of Life Institute is one of the only organizations in the world working directly to diminish those threats. As a small nonprofit, FLI relies 100% on donations to fund our work. While we're fortunate to have received some large donations to tackle big problems, those donations are often designated for specific projects and/or re-granted as research grants, leaving very little general purpose funding. (If you're interested in how our funding is allocated, please see our annual reports: 2015, 2016, 2017, 2018). As we seek to educate more people about the threat of existential risks and to develop and implement new and unique solutions, we need your help.
You can donate below using PayPal, debit/credit, cryptocurrency, or Amazon Smile.  If you'd like to be a regular supporter, please consider a monthly subscription donation to make sure we can continue our efforts into the future.
If you would prefer to donate using a cryptocurrency such as Bitcoin, Bitcoin cash, Ethereum or Litecoin, please use the following button:
You can also get Amazon to support us through their Smile program every time you shop online: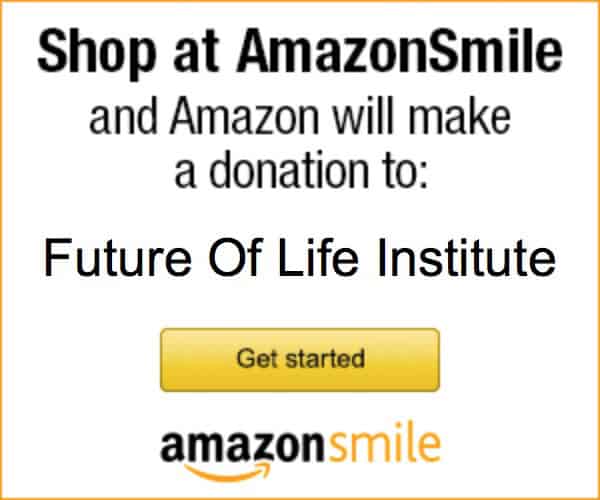 In order to make an offline donation we ask that you please follow these instructions:
Make a check payable to "Future of Life Institute"
On the memo line of the check, please indicate that the donation is for "Future of Life Institute"
Please mail your check to:
Future of Life Institute
701 E Cathedral Rd Ste 45 PMB 456
Philadelphia, PA 19128
Please include a note with an email address or mailing address so we can provide a tax receipt.
Where will your donation go?
Facilitating AI alignment and developing beneficial artificial intelligence

Mitigating the risks of nuclear war 

Creating and implementing international standards and laws around lethal autonomous weapons

F

illing funding gaps where current large donations are not allotted 

Creating more podcasts that take a deep-dive into subjects related to existential threats

Writing more in-depth articles about the various issues and the work being done to solve them
Developing new graphics to help visualize threats and solutions

Developing a new video series about existential risks and expanding our Youtube

Expanding and improving the website

Broadening global awareness about the increasing threats we face and how to address them

Supporting people and groups who are working on solutions to these threats

Steering us toward a future more beneficial for all
FLI is a 501c(3) non-profit organization, so your donations will be tax exempt in the United States. If you need our organization number (EIN) for your tax return, it\'s 47-1052538.