L'avenir de l'IA – qu'en pensez-vous?
Le nouveau livre de Max Tegmark sur l'intelligence artificielle (IA) (Life 3.0: Being Human in the Age of Artificial Intelligence) se penche sur les effets grandissants qu'auront les IA au fur et à mesure que ces algorithmes se développeront, atteignant potentiellement le statut de « super-intelligence » lorsqu'elles dépasseront les capacités humaines dans tous les domaines. Dans ce livre, Max a examiné les prédictions de nombreux experts et expertes dans le domaine afin de tracer un panorama des perspectives sur l'avenir et sur ce qu'il devrait être.
C'est maintenant le temps d'élargir la conversation. Si nous souhaitons créer un avenir bénéfique pour le plus de personnes possibles, il faut nécessairement qu'elles puissent s'exprimer sur la question. Ci-dessous, se trouve une synthèse des 14 866 premières personnes qui ont répondues au sondage accompagnant le live de Max. Si vous souhaitez remplir le sondage également, il suffit de suivre ce lien (malheureusement, le sondage n'est pas disponible en français pour le moment).
Deux questions : Quand? Devrions-nous le craindre ou l'accueillir?
La première polémique quant aux algorithmes issus de l'IA, qui divise même les spécialistes de la question, porte sur les prédictions quant au potentiel de l'IA. Il fut donc se demander, quand, si c'est même possible, un algorithme de l'IA saura dépasser les capacités humaines dans tous les domaines de l'activité intellectuelle (on parle alors d'une super intelligence artificielle généraliste (ou IAG))? Puis, il semble adéquat de poursuivre: Si une IAG advenait, serait-ce une bonne chose?
Voulez-vous d'une super-intelligence?
On pourrait affirmer, sans trop craindre de se tromper, que tout ce que nous aimons relativement à la civilisation est le produit de l'intelligence. Il est difficile de ne pas être optimiste face aux possibilités que pourrait offrir la coopération entre l'intelligence humaine et des IAs. Cependant, de nombreuses personnes s'inquiètent de la possibilité que ces IAs (ou des IAGs) en viennent à nous contrôler, en plus de s'interroger à savoir si leurs objectifs concorderont avec ceux des humains. La question posée était : Souhaitez-vous qu'advienne une super-intelligence (c'est-à-dire une IAG qui surpasse largement les capacités humaines)?
À quoi devrait ressembler l'avenir?
Dans son livre, Max Tegmark défend l'idée que nous ne devrions pas nous demander passivement « Qu'est-ce qui va se passer? » comme si l'avenir était prédéterminé, mais plutôt nous demander « Qu'est que nous voulons qui se passe? » et ensuite tenter de créer cet avenir. Quel avenir voulez-vous?
Si une super-intelligence advenait, qui devrait être en contrôle?
Si vous aviez à votre disposition une IA pour vous assister, voudriez-vous qu'elle soit consciente (soit qu'elle possède une expérience subjective et une volonté propre)?
Quel devrait être l'objectif des civilisations du futur?
Souhaitez-vous que la vie s'étende sur d'autres planètes?
Quelle société est une société idéale?
Dans Life 3.0, Max élabore douze scénarios qui décrivent ce qui pourrait advenir au cours du prochain millénaire, selon qu'une super-intelligence serait développée ou non. Vous trouverez  sur cet hyperlien une synthèse de chacun des scénarios. Pour une explication plus détaillée des avantages et inconvénients de chacun d'eux, il vous faut consulter le chapitre 5 du livre.
Voici une synthèse des préférences des répondants et répondantes quant à ces scénarios.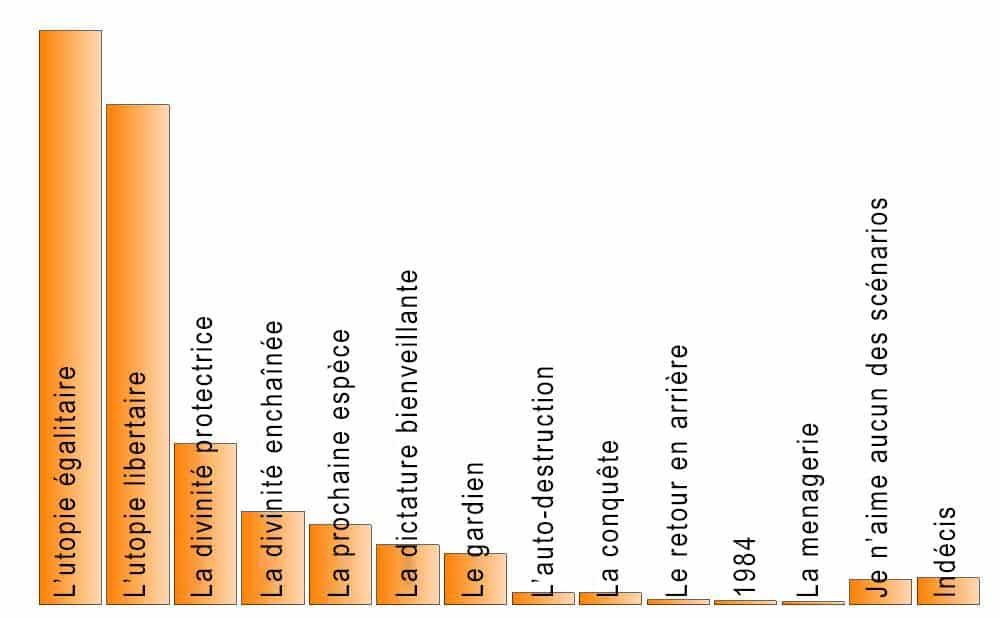 Vous pouvez en apprendre beaucoup plus sur ces scénarios, en plus d'obtenir plus d'information sur ce que sont les IAs, comment elles fonctionnent et influencent notre société et influenceront celle de demain en achetant le nouveau livre de Max.
Les résultats présentés ci-dessus seront mis à jour régulièrement. Si vous le désirez, vous pouvez remplir le sondage en suivant ce lien (malheureusement, le sondage n'est pas disponible en français).