Get Involved with the Future of Life Institute
FLI is entirely supported by 
private donations
. We accept donations from individuals and foundations. We are a 501c(3) non-profit organization, so your donations will be tax exempt in the United States. If you need our organization number (EIN) for your tax return, it's 47-1052538. If you'd like to support us, then please click on the donate button, and thanks in advance for your generous help!
If you would prefer to donate using a cryptocurrency such as Bitcoin, Bitcoin cash, Ethereum or Litecoin, please use the following button:

You can also get Amazon to support us through their Smile program every time you shop online: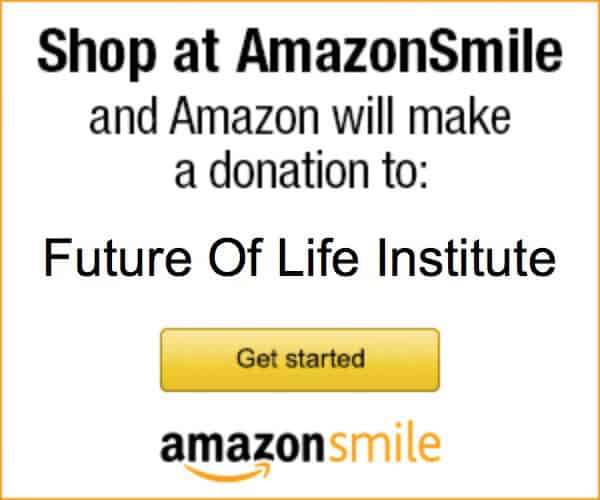 FLI is currently run by volunteers and is based on brainstorming meetings where the members come together and discuss active and potential projects. To get a flavor for what we do, here's a video summary of our first year. If you are interested in volunteering, especially if you are located in the Boston area, please fill out our application form.
We are experiencing a large volume of volunteer applications – we will contact you only if there is a match between your skills and interests and our current projects.
We are trying hard to make this website become a dynamic and widely read source of quality information on how to avoid catastrophic risks and keep technology beneficial. Please help us accomplish this goal by sharing the articles you find interesting on social media and by telling your friends about our site.
If you are interested in doing research on making AI systems robust and beneficial, apply for our research grants. The deadline for our first grants program was March 1, 2015, but we hope to announce more opportunities soon. See Request for Proposals and the grants FAQs for more information about the research we're currently funding.
Careers in existential and catastrophic risk