The Future of Life Award 2018
Celebrating the contributions of Stanislav Petrov
To celebrate that today is not the 35th anniversary of World War III, Stanislav Petrov, the man who helped avert an all-out nuclear exchange between Russia and the U.S. on September 26 1983 was honored in New York with the $50,000 Future of Life Award at a ceremony at the Museum of Mathematics in New York.
Former United Nations Secretary General Ban Ki-Moon said: "It is hard to imagine anything more devastating for humanity than all-out nuclear war between Russia and the United States. Yet this might have occurred by accident on September 26 1983, were it not for the wise decisions of Stanislav Yevgrafovich Petrov. For this, he deserves humanity's profound gratitude. Let us resolve to work together to realize a world free from fear of nuclear weapons, remembering the courageous judgement of Stanislav Petrov."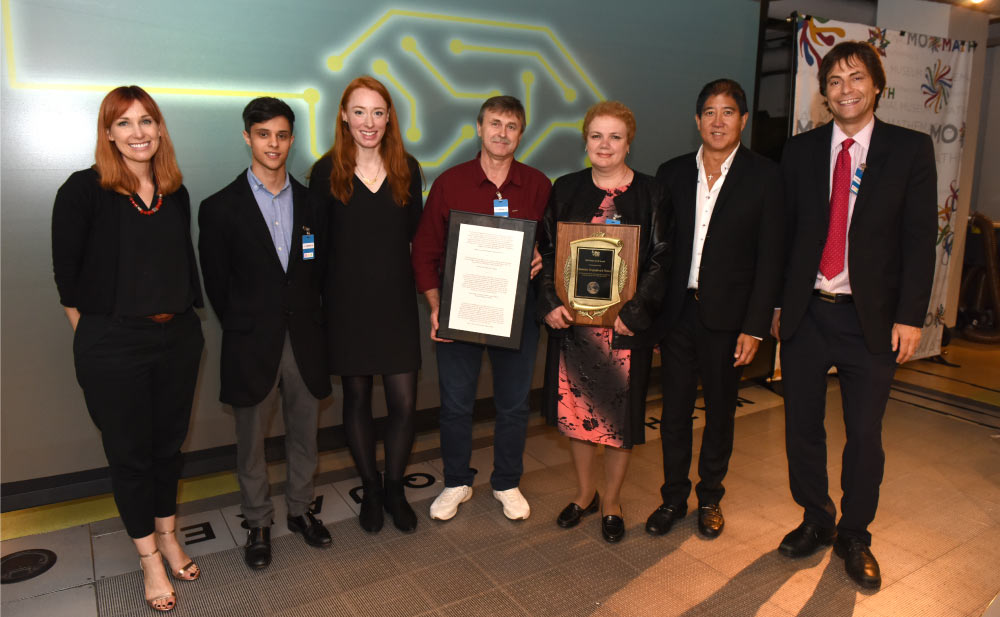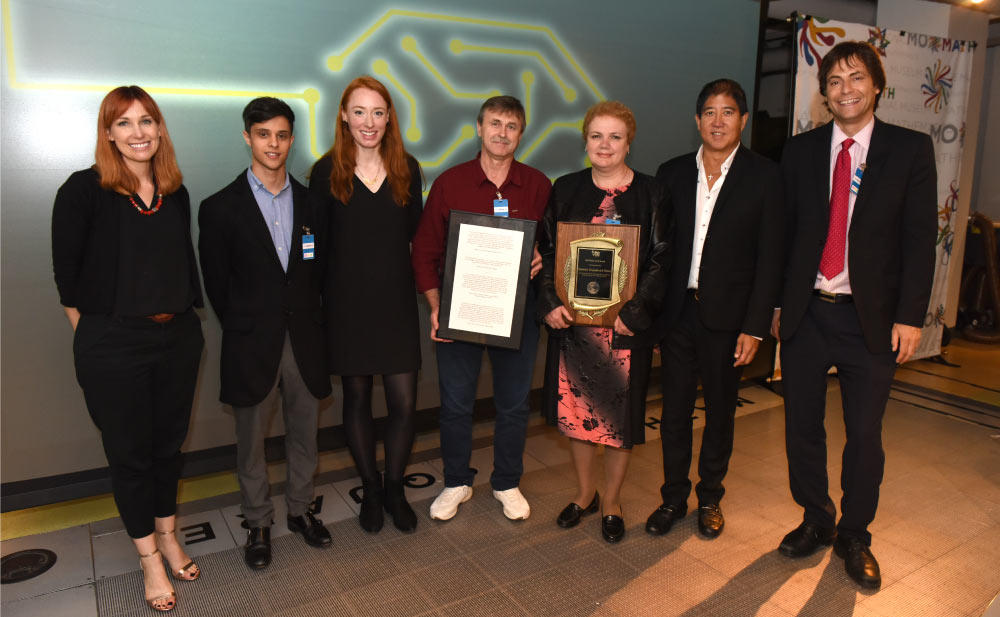 Stanislav Petrov's daughter Elena holds the 2018 Future of Life Award flanked by her husband Victor. From left: Ariel Conn (FLI), Lucas Perry (FLI), Hannah Fry, Victor, Elena, Steven Mao (exec. producer of the Petrov film "The Man Who Saved the World"), Max Tegmark (FLI)
Although the U.N. General Assembly, just blocks away, heard politicians highlight the nuclear threat from North Korea's small nuclear arsenal, none mentioned the greater threat from the many thousands of nuclear weapons in the United States and Russian arsenals that have nearly been unleashed by mistake dozens of times in the past in a seemingly never-ending series of mishaps and misunderstandings.
One of the closest calls occurred thirty-five years ago, on September 26, 1983, when Stanislav Petrov chose to ignore the Soviet early-warning detection system that had erroneously indicated five incoming American nuclear missiles. With his decision to ignore algorithms and instead follow his gut instinct, Petrov helped prevent an all-out US-Russian nuclear war, as detailed in the documentary film "The Man Who Saved the World", which will be released digitally next week. Since Petrov passed away last year, the award was collected by his daughter Elena. Meanwhile, Petrov's son Dmitry missed his flight to New York because the U.S. embassy delayed his visa. "That a guy can't get a visa to visit the city his dad saved from nuclear annihilation is emblematic of how frosty US-Russian relations have gotten, which increases the risk of accidental nuclear war", said MIT Professor Max Tegmark when presenting the award. Arguably the only recent reduction in the risk of accidental nuclear war came when Donald Trump held a summit with Vladimir Putin in Helsinki earlier this year, which was, ironically, met with widespread criticism.
In Russia, soldiers often didn't discuss their wartime actions out of fear that it might displease their government, and so, Elena only first heard about her father's heroic actions in 1998 – 15 years after the event occurred. And even then, Elena and her brother only learned of what her father had done when a German journalist reached out to the family for an article he was working on. It's unclear if Petrov's wife, who died in 1997, ever knew of her husband's heroism. Until his death, Petrov maintained a humble outlook on the event that made him famous. "I was just doing my job," he'd say.
But most would agree that he went above and beyond his job duties that September day in 1983. The alert of five incoming nuclear missiles came at a time of high tension between the superpowers, due in part to the U.S. military buildup in the early 1980s and President Ronald Reagan's anti-Soviet rhetoric. Earlier in the month the Soviet Union shot down a Korean Airlines passenger plane that strayed into its airspace, killing almost 300 people, and Petrov had to consider this context when he received the missile notifications. He had only minutes to decide whether or not the satellite data were a false alarm. Since the satellite was found to be operating properly, following procedures would have led him to report an incoming attack. Going partly on gut instinct and believing the United States was unlikely to fire only five missiles, he told his commanders that it was a false alarm before he knew that to be true. Later investigations revealed that reflections of the Sun off of cloud tops had fooled the satellite into thinking it was detecting missile launches.
Last years Nobel Peace Prize Laureate, Beatrice Fihn, who helped establish the recent United Nations treaty banning nuclear weapons, said,"Stanislav Petrov was faced with a choice that no person should have to make, and at that moment he chose the human race — to save all of us. No one person and no one country should have that type of control over all our lives, and all future lives to come. 35 years from that day when Stanislav Petrov chose us over nuclear weapons, nine states still hold the world hostage with 15,000 nuclear weapons. We cannot continue relying on luck and heroes to safeguard humanity. The Treaty on the Prohibition of Nuclear Weapons provides an opportunity for all of us and our leaders to choose the human race over nuclear weapons by banning them and eliminating them once and for all. The choice is the end of us or the end of nuclear weapons. We honor Stanislav Petrov by choosing the latter."
University College London Mathematics Professor  Hannah Fry, author of  the new book "Hello World: Being Human in the Age of Algorithms", participated in the ceremony and pointed out that as ever more human decisions get replaced by automated algorithms, it is sometimes crucial to keep a human in the loop – as in Petrov's case.
The Future of Life Award seeks to recognize and reward those who take exceptional measures to safeguard the collective future of humanity. It is given by the Future of Life Institute (FLI), a non-profit also known for supporting AI safety research with Elon Musk and others. "Although most people never learn about Petrov in school, they might not have been alive were it not for him", said FLI co-founder Anthony Aguirre. Last year's award was given to the Vasili Arkhipov, who singlehandedly prevented a nuclear attack on the US during the Cuban Missile Crisis. FLI is currently accepting nominations for next year's award.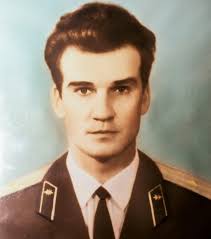 Stanislav Petrov around the time he helped avert WWIII
The Future of Life Award is a $50,000 prize given to an individual who, without receiving much recognition at the time, has helped make today dramatically better than it may otherwise have been. We are confident that there are many unsung heroes out there, who have done incredible work to ensure a beneficial future of life on Earth. We need your help to ensure they get the recognition and honor they deserve.
Dr. Meselson was a driving force behind the 1972 Biological Weapons Convention, an international ban that has prevented one of the most inhumane forms of warfare known to humanity. April 9th marked the eve of the Convention's anniversary. Meselson's long career is studded with highlights: proving Watson and Crick's hypothesis on DNA structure, solving the Sverdlovsk Anthrax mystery, ending the use of Agent Orange in Vietnam. But it is above all his work on biological weapons that makes him an international hero.
The 2019 Future of Life Award to Dr. Matthew Meselson was covered in Vox, and you can see a video about Meselson's life below.
Vasili Arkhipov single-handedly prevented nuclear war during the height of the Cuban Missile Crisis. Arkhipov's submarine captain, thinking their sub was under attack by American forces, wanted to launch a nuclear weapon at the ships above. Arkhipov, with the power of veto, said no, thus averting nuclear war.
The 2017 Future of Life Award to Vasili Arkhipov was covered in The Times, The Guardian, The Independent, and The Atlantic.
Help Us Find Our Next Unsung Hero
In the form below, please explain how your candidate has helped (indirectly or directly) save thousands or millions of lives, or helped make today dramatically better than it may otherwise have been. Please add links and evidence where possible.
If we decide to give the award to your nominee, you will receive a $3,000 prize from FLI for your contribution!
If you have documentation that you can't upload in the form below, or if you are a researcher who would like to apply for a grant to research a candidate, please email dnicholson@post.harvard.edu.
If you don't know of any candidates, we encourage you to share this page on social media and websites like Reddit, so we can reach as many people as possible in our quest to find humanity's unsung heroes. If, by sharing this, you directly lead someone else to submit a winning candidate, we will give you credit in the nominations page.
Sign Up for our Newsletter